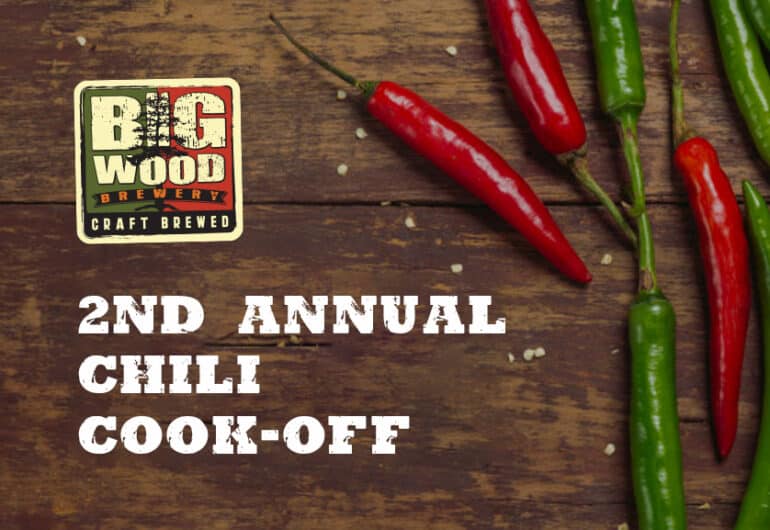 We're rolling into 2022 with our 2nd Annual Chili Cook-off!
Chili-aficionados will compete for your votes and a cash prize on Sunday, January 16th when they bring their chili A-game to Big Wood.
Tasting passes will be $6 and will be available at Big Wood on the day of the event.
---
Competition Entry
Think you make award-winning chili? Here's your chance to show White Bear Lake what you've got!
Registration is $25, limited to 15 teams, and is first-come, first-served.
Please use the button below to register using our secure, online payment and select "Pick Up" for your delivery option to avoid unnecessary shipping costs.
---
ADD TO CART
---
Prizes
Best Overall:
$200
Second Place:
$75
Big Wood Chili (includes Big Wood beer in recipe):
$50 Big Wood Gift Card
People's Choice Award:
$50 Big Wood Gift Card
---
Rules
CROCK POT DROP-OFF IS 10:30 AM  on 1/16
Chili must be made from scratch. Cooking begins with raw meats, vegetables, and spices. Beans and pre-made chili mixes are approved ingredients for this chili competition. 1-2 gallons will be needed and should be stored in a crock pot or other temperature controlled food storage unit.
Chili must be kept at a standard minimum temperature of 120º or higher and should be brought to us warm.  We will provide sample cups, spoons, and containers for judging samples.
All samples will be anonymous and identified by a number system assigned to you at check in.
Contestants are responsible for supplying their own crock pot or warming unit, and serving spoon.
Judging will be at approximately 4 pm and judges will be announced at the award ceremony.
Judges will vote for the chili based on the following considerations:

Aroma
Color
Consistency
Taste
Aftertaste

All registrations will be completed on the Big Wood Brewery website.  Registration will close after the 15th registration has been paid and accepted.
Event held snow or shine.